The Kolosso Toyota Team takes pride in supporting our local community !
Kolosso Toyota is a drop-off center for Rawhide vehicles.

Rawhide has redirected the lives of thousands of youth and their families since its beginning in 1965 by following its vision: to inspire and equip at-risk youth and families, throughout the nation, to be profoundly changed, restored, and responsible.
You have an opportunity to help Rawhide in a unique way by donating your vehicle regardless of condition; they would love to have it no matter what condition it's in? dead or alive?.running or not. Rawhide also considers motorcycles, snowmobiles, boats, RV's, campers, ATV's, or any type of vehicle. Rawhide needs your vehicle donation.
If your vehicle is costing you money either in storage fees, insurance? or if it's just taking up space, you can drop it off at Kolosso Toyota-Scion and complete the paperwork there, or fill out Rawhide's online form, and they will come and pick it up.
Bart Starr, a Rawhide co-founder, once said, "I can't think of a better legacy to leave our children than contributing to Rawhide and giving youth and families a future". Please consider donating to Rawhide help support troubled young men, women and families in your local Wisconsin community.

To learn more visit www.Rawhide.org/Wisconsin  or call 877-959-2199.

Check out the Rawhide video link below:

https://www.youtube.com/watch?feature=player_embedded&v=9RQDB2dppxI
Kolosso Toyota is a Harbor House Supporter  !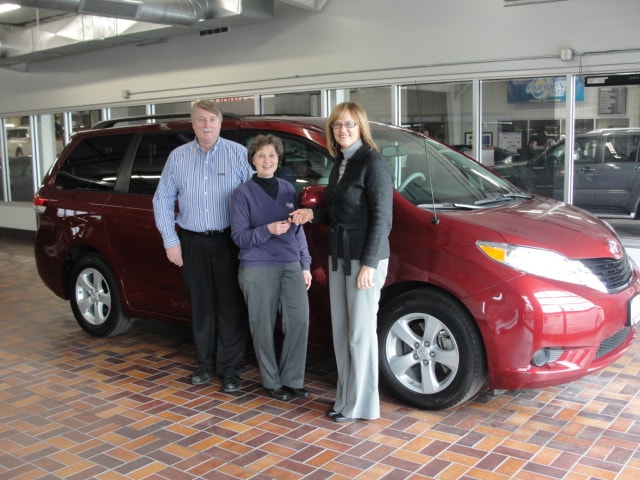 Presenting Harbor House some new transportation !
Harbor House Domestic Abuse Center

Established in 1984 as a program of the Outagamie County Department of Human Services, Harbor House Domestic Abuse Programs began as a grassroots organization offering a safe shelter and basic crisis services to people hurt by domestic abuse.


Harbor House became an independent, private nonprofit agency on Jan. 1, 1997, and one year later, opened an outreach office in Chilton to better serve the needs of Calumet County families. 


On Sept. 5, 2001, Harbor House moved to its current location at 720 W. Fifth St. in Appleton, a much larger facility refurbished to meet growing demands for shelter, to expand existing services, and to develop new programs in response to regional needs.


Today, Harbor House is an integrated and supportive community, surrounding women and children with a comprehensive range of program options. All of our programming is offered within a compassionate community of new friends, knowledgeable staff members, and dedicated volunteers-many of whom are abuse survivors themselves.


Mission and Programs

The mission of Harbor House is to offer safety and support to diverse families in crisis, and to lead a community-wide partnership in the awareness and prevention of domestic violence and abuse.

For more information please check out their website at the link listed below.
Sales Hours
Monday

9:00am - 7:00pm

Tuesday

9:00am - 7 :00pm

Wednesday

9:00am - 7 :00pm

Thursday

9:00am - 7:00pm

Friday

9:00am - 5:30pm

Saturday

9:00am - 5:00pm

Sunday

Closed